Wisconsin Academy
Class Of 1999
2019 marks our 20th REUNION! Alumni Weekend is set for April 19-21 (Easter weekend) at WA. Planning is in process and will be communicated through this website, email, and our class Facebook page. Stay tuned!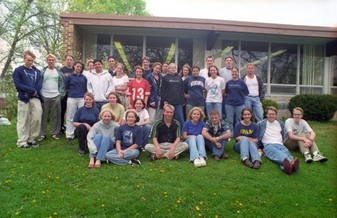 Graduation Date: Sunday, May 23, 1999

Class Colors: Royal Blue, Lime Green, White
Class Flower: Carnation
Aim: To develop the kind of love Christ has
Motto: Love never fails
Class Text: "There are three things in life: faith in God, hope for the future and Christ-like love, but the greatest of these is love." 1 Corinthians 13:13
Senior Class Officers:
President - Shea Chambers Dunn
Vice President - Erin (Heldstab) Bonin
Secretary - Naomi Soto
Pastor - Julie Stotz
Treasurer - Melissa (Rogge) Anderson
Parliamentarian - Melissa Shea
Sports Coordinator - Erin (Ziesmer) Orde
Sports Coordinator - Jason Perez
Student Faculty Rep. - Lauren (Bongard) Schwarz
Student Faculty Rep. - Matthew Westfall
Senior Class Play: "The Homecoming"
Class Song: "Give Me Love" Written by: Seth Johnson & Aaron Sachse
As a child, I talked as a child
As a child, I reasoned like a child
The reflection is clear
I see it in the mirror.
Do I speak in tongues of angels?
Can I fathom the mysteries and knowledge?
Do I surrender my body to the flame?
To fly as a dove
Wrapped in wings of love
Protect me
Hold me, give me love.
Give me faith
Give me hope
Give me love.